EASY PLANTING, GREAT EFFECT
The popularity of bulbs - and in particular naturalising bulbs - is easy to explain; they are easy to plant, also in existing plantings such as lawns, wildflower meadows, banks, roofs and under deciduous shrubs and trees. They make a very important contribution to biodiversity and are a great addition in the bare and sparse early spring months. Flowering bulbs are highly appreciated by the public due to their "pop up" experience in the spring and we now also know that green space contributes to social cohesion, health and general well-being.
As a landscaping manager you can therefore give your projects a huge boost by applying many (naturalising) bulbs. An investment for years, as evidenced by the old gardener's tradition of naturalising plants, including many bulbs and tubers: planted only once and over the years turned into beautiful flower carpets. This form of planting is also very suitable to use in contemporary outdoor spaces. JUB is happy to advise you on successful and suitable combinations and applications.
Read more about the total concept here
LOTS OF FUN BECAUSE OF LONG FLOWERING
Annual bulbs, such as long-stemmed tulips but also dahlias, can be used as fantastic seasonal plants, in pots and large bowls.

But also in existing plantings such as perennial borders, tulips, gladioli or dahlias can provide fantastic accents that will be talked about for a long time!
The long flowering period and the extensive colour palette mean that a different colour festival can be celebrated every year. As a local authority or large institution, you can therefore give your outdoor space a huge quality boost by adding accents with annual bulbs.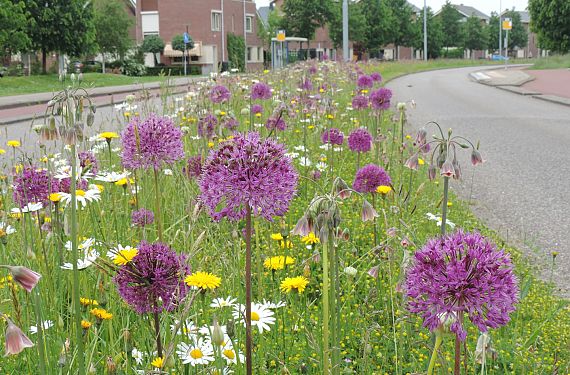 the core activities Landscape
Authentic, innovative and flexible
Do you have a question?
We are happy to help
already worked for
check out our socials